---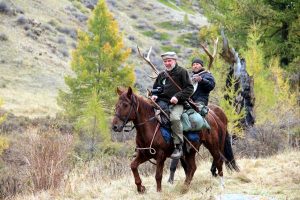 "Someone who does not contact local guides can not take advantage of the place".Those are the Sun-tzu's words. And they are excellentely suitable to the gamekeeper staff of the game husbandry "Zaisankoe". Our guide-gamekeepers walk around the Saur every day. Some chose the mountain ridge as their home. They are the only ones who can choose the safest route along the slopes and forests. They have all the survival skills in the wild conditions. They are able to take care of the safety of group, horses, property. All year gamekeepers track the number of animals and perfectly know where they should look for animal in hunting season. They are the aborigines of the Saur and speak with nature in its language.
A guide will not only lead the shooter to the habitat of animal. The experienced gamekeeper will give advice what to take with him, he will lure the animal, describe the estimated size of trophy. His assistant (the group includes a gamekeeper, an assistant of gamekeeper and a hunter) will take care of horses, provide a rest, prepare a place for rest or overnight. It should be noted that horses are an inseparable companion of a mountain hunter. Without them, constant ascent and descent are much more difficult. And horses also grew up in the Saur. Slopes, passes, meadows, forests are their native element.
Employees of the camps are not inferior to their colleagues in terms of experience. Every guest is welcomed with hospitable reception, kindness and comity of manner. Hospitality is a national Kazakh feature. A welcome dastarkhan will not leave anyone indifferent. Local chefs get hand in cooking authentic food. Beshbarmak and kazy in their hands acquire an amazing taste, characteristic of the national Kazakh cuisine. However, at the request of guests, a specially invited professional chef can work in the camp. Adherents of European cuisine or specialized diets will not be neglected.
The presence of full-time translators at the GH "Zaisanskoye" guarantees the absence of language problems. The speakers of English, German, and Spanish will get general information about places of stay without problems. Foreign guests will not have difficulties in communicating with representatives of local authorities. Everyone will get clear answers to all questions. Simple communication with local residents and employees of the GH "Zaisanskoe" will be easy and free.
In general, our guests will enjoy a wonderful hunting in the Saur. They will be accompanied by experts in their field.